Afgelopen zaterdag was ik op een dancefeestje (http://www NULL.fortclochard NULL.nl) op een verlaten eiland, ergens in de omgeving van Amsterdam. Tegen half vijf 's middags kwamen de laatste honderdvijftig bezoekers met de veerboot aan. Ze werden verwelkomd door hun vrienden, er werd gejuicht, geknuffeld en gekust. Niet veel later werden op een heel ander feest negentien mensen vertrapt in een donkere voetgangerstunnel. Wat er gebeurd is bij de Love Parade dwingt ons om diep na te denken over de vraag waar we willen dansen en met wie.
De eerste Love Parade was in Berlijn in 1989. Aantal bezoekers? Honderdvijftig. Al is bezoekers misschien niet eens het goede woord. De pioniers van toen moeten haast zonder uitzondering ingewijden geweest zijn, liefhebbers èn makers, organisatoren, dj's. Erg legaal zal het niet geweest zijn, wat er op 1 juli 1989 op de Kurfürstendamm plaatsvond: de hele scene in Berlijn speelde zich in die tijd op en over de grens van de wet en het gezag af.
Die eerste keer dat mensen achter een dj op een auto aan dansten door de straten van de stad, is nu net zo ver verwijderd van de Love Parade van afgelopen zaterdag in Duisburg als het feestje waar ik was. Toegang was op uitnodiging. Er was geen drugsbeleid, geen security en geen vergunning, alleen de geruststellende gedachte dat iedereen die geen vriend of vriendin was, toch in ieder geval een vriend van een vriend was, of een vriend van een vriend van een vriend. Persoonlijk voel ik me daar veiliger bij dan wanneer ik met (naar verluidt) 1,4 miljoen anderen onder bescherming sta van een stadsbestuur en een organisatie die fout op fout hebben gestapeld.
Toch is het te makkelijk om alleen naar de organisatoren te wijzen als het om de schuldvraag gaat. House is vanaf het begin een utopie op schaal geweest: een begrensde werkelijkheid waar andere regels gelden, waar je op kan gaan in de muziek en je diepste verlangens kan uitleven. Wie zijn wij om een ander zijn aandeel in die droom te misgunnen? Waarom zou de ervaring van een 19-jarige die zijn eerste pilletje gebruikt in een voetbalstadion bij DJ Tiësto, minder waard zijn dan die van één van de scenesters die in het geheim met driehonderdvijftig anderen een eiland een nacht lang omtovert tot een andere realiteit?
Zolang als er mensen dansen op elektronische muziek, is er een strijd aan de gang tussen diegenen die het bereik zo groot mogelijk willen maken, en zij die de grenzen van hun utopia alleen willen openstellen voor hen die er echt deel van willen uitmaken. De eerste groep krijgt steevast het verwijt dat ze uitverkoop houden, dat ze hun waarden verkwanselen en de essentie verliezen. De anderen zijn puristen, elitaristen en snobs. Ze weigeren je aan de deur van hun club omdat je niet weet welke dj er draait. Ze organiseren een festival dat een half jaar vantevoren uitverkocht is, omdat ze weigeren meer dan drieduizend mensen toe te laten.
Een goed feest is een uniek evenement. Maanden later zullen mensen je nog vragen of je erbij was, of het echt zo goed was als ze gehoord hebben en of het er volgend jaar weer komt. Zo moet de Love Parade gegroeid zijn: de eerste paar edities waren zo legendarisch, dat er in 1997 naar schatting een miljoen mensen liepen te dansen in de straten van Berlijn. De vraag is alleen wat er verloren gaat als erbij zijn belangrijker wordt dan erbij horen.
Ik kan me niet voorstellen dat op de massale Love Parades vanaf halverwege de jaren negentig, dezelfde gemeenschapszin heerste als in de beginjaren. 'My house is your house and your house is mine' was het motto van de editie van 1991. Uit allerlei Duitse steden kwamen bussen met lokale posses. In de straten van Berlijn smolten die losse groepen samen tot een grotere gemeenschap en zo ontstond in Duitsland voor het eerst het besef dat de house-utopie werkelijkheid kon worden voor een hele generatie.
Ergens onderweg moet echter dat gevoel van eenheid, van verantwoordelijkheid voor elkaar, verloren zijn gegaan. Hoe kan je het anders verklaren dat duizenden mensen stonden te duwen om binnen te komen, zonder zich af te vragen wat er voor hen gebeurde? Dat honderdduizenden nog uren door hebben gedanst, terwijl het feest voor negentien anderen onherroepelijk over was? Dat de Love Parade al jaren geen uniek evenement meer is en dat deze editie dat alleen geworden is omdat het ongelofelijk fout is gegaan?
My house is niet zomaar your house, maar zou dat wel zomaar kunnen worden, als je wil. Je moet echter wel betrokken en geïnformeerd willen zijn en de moeite willen nemen om mijn feest net zo goed te maken als het jouwe. Wie weet komen we elkaar dan volgend jaar bij zonsopgang ergens op een eiland tegen. Uiteindelijk komt het neer op de keuze of je deel wil zijn van een gemeenschap of van de massa.
Dit stuk stond op 28 juli op de opiniepagina van de Volkskrant (http://www NULL.volkskrant NULL.nl).
Meer lezen (http://www NULL.residentadvisor NULL.net/news NULL.aspx?id=9061)?
Meer zien (http://www NULL.residentadvisor NULL.net/news NULL.aspx?id=9356)?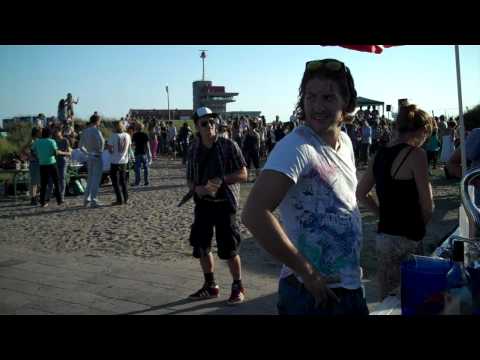 (http://www

NULL

.youtube

NULL

.com/watch?v=qcRe9AtvhGI)